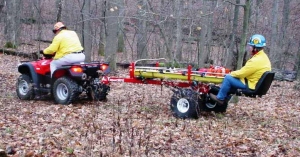 The All Terrain Rescue Trailer
The All Terrain Res-Q™ rescue trailer is a very effective means of transporting patients out of rough terrain or wildland situations. The ATR trailers can be towed by all terrain vehicles, the larger utility vehicles and snowmobiles. These rescue trailers offers a host of features and accessories that will assist emergency responders in caring for their patients while they are transported to a waiting ambulance or helicopter landing zone.
New Article in Off Road Rescue News
ATV rescue units can speed up Greenway - Go to article Click Here
Distributors/Dealers Wanted
To find a Distributor/Dealer in your area click here. We are looking for Distributors and Dealers all over the United States. If you are in the fire service industry and are interested, please contact us through our Contact Us page to request more information on becoming a Distributor/Dealer. Also, please check our Dealer page to see if there is a current Distributor in your area. If there is, please contact them to become a Dealer.